Wow! It's the end of January already. Where did the first month of 2023 go?! Oh right… it went with all the busy-ness that was quilting and crafting and that other thing – my day job.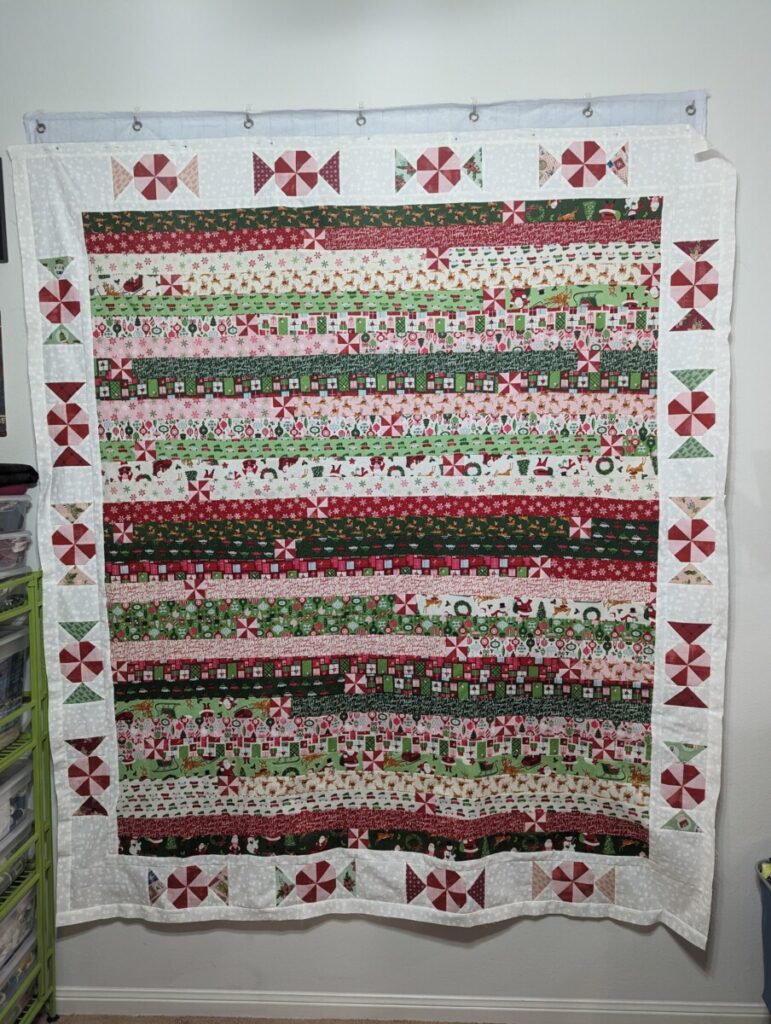 Not a bad way to finish January – with a fun quilt. I took the idea for the border from a table runner pattern. I like that the candy pieces on the border match the pinwheels in between the strips.
Since it's the last day of the month, I wanted to check my 2023 lists. Before anyone throws shade, the lists are hopes, not requirements.
2023 for Me List
Jelly Roll Rug
Quilt Sweatshirt Jacket
Selvage Window Valence
Mondo bag
Midi bag
Tuft ottoman
Apron
Pillow cover
Fabric weights
Sewing Machine cover
Table runners and placemats
Unicorn wall hanging
2023 for Community
1 Linus Project

Kaffe Churn Dash
Crayon on White
Crayon on Gray

Cut Chilhowie Mystery
Cut Scrap Challenge 2024
Halloween Raffle Quilt
Cut Anna's Falling Stars
Cut Mom's Quilt Kits
2023 Quilt Adjacent
Organize digital patterns
Go through quilt magazines
Cut up scraps
Bind Quilt Stack
International Block Swap
2023 Quilts To Do
2023 Scrap Challenges – Winding Road and Falling Stars
Snail Quilt
Kaffe Kites
Mountains with Kari Fabric
Just My Type
Birch Tree Gnomes
Snowflake Quilt
Dogs in Sweaters
Goats in Pajamas
Letters
Applique Gnomes on Jelly Roll Race
Finish Christmas Jelly Roll Race
Black, White & Red Jelly Roll Race
2023 January Specific
1/4 of a scrap bin cut with templates and sorted
1/4 of magazines digitized and sorted
1 Linus Project Quilt
1 2023 for Me project
36 more Speedway blocks
International Swap blocks
Christmas Jelly Roll Quilt
1 UFO